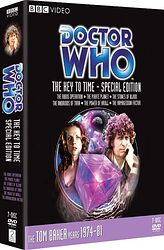 Edition:
US (special DVD)
Title:
The Key to Time: Special Edition
Released:
March 2009

Publisher:
BBC Video
Format:
7 x DVD
Owned:
Buy:
Cover blurb:
In an intergalactic treasure hunt that spans a full season, the Doctor is summoned by the mysterious White Guardian to find the six segments of the Key to Time. All 26 episodes!
The Ribos Operation — (98 mins) Landing on the wintry planet of Ribos to locate the first segment, the Doctor and Romana are soon entangles with a pair of conmen.
The Pirate Planet — (100 mins) The search for the second segment brings Doctor [sic] and Romana to the planet Zanak, where a terrifying pirate captain controls the most destructive force in the galaxy.
The Stones of Blood — (95 mins) The search for the third segment of the leads the Doctor, Romana and K-9 to England and an ancient stone circle called the Nine Travellers.
The Androids of Tara — (97 mins) Romana assumes that the search for the fourth segment on the planet Tara will be simple, but nothing on Tara is as it first appears.
The Power of Kroll — (90 mins) The search for the fifth segment brings the TARDIS to treacherous swamps on the third moon of the planet Delta Magna, where a massive creature is stirring beneath the waters.
The Armageddon Factor — (147 mins) Only one piece remains to be found as the Doctor, Romana and K-9 arrive on Atrios, a planet locked a terrible war with its twin world Zeos. But Zeos is deserted, so who is behind the war?
DVD EXTRAS INCLUDE:
8 Audio Commentaries featuring actors Tom Baker, Mary Tamm, Bruce Purchase, Susan Engel, John Leeson and John Woodvine, writers David Fisher, directors Pennant Roberts, Darrol Blake and Michael Hayes and script editor Anthony Read
A Matter of Time (60 mins)
"Making Of" featurettes: The Ribos File (19 mins) / Parrot Fashon (30 mins) / Getting Blood from the Stones (26 mins) / The Humans of Tara (21 mins) / Defining Shadows (15 mins)
Weird Science Spoof (17 mins)
Hammer Horror (13 mins)
Stones Free Location visit with Mary Tamm (9 mins)
Now and Then Androids location visit (10 mins)
Double Trouble (11 mins)
In Studio Recording The Power of Kroll (11 mins)
There's Something about Mary (9 mins)
Philip Madoc — A Villain for all Seasons (9 mins)
Directing Who Michael Hayes interview (8 mins)
Rogue Time Lords Spoof (13 mins)
Late Night Stories Read by Tom Baker (69 mins)
BBC Archive clips (38 mins)
Deleted/Extended Scenes (19 mins)
Continuities (17 mins)
Photo Galleries (38 mins)
PDF Files (PC/Mac): 1979 Doctor Who Annual, Radio Times Listings
Production Note Subtitles
Digitally remastered picture and sound quality
Originally transmitted: September 2, 1978 - February 24, 1979