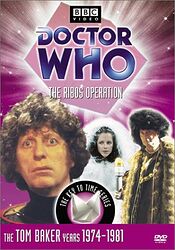 Edition:
US (standard DVD)
Released:
October 2002

Publisher:
BBC Video
Format:
1 x DVD
Owned:
Buy:
Cover blurb:
Having left Leela on Gallifrey, the Doctor and K9 Mark II don't remain footloose for long. The TARDIS is soon intercepted by the White Guardian.
The White Guardian sets the Doctor on an urgent mission to locate the six segments of the Key to Time, which are well disguised and hidden in odd corners of time and space. Once assembled, the Key will allow the White Guardian to restore balance to a universe descending into evil and chaos.
To assist the Doctor the White Guardian has appointed Romana, fresh out of the Time Lord Academy and none too well traveled. Despite an initial bout of "negative empathy," the Doctor and Romana trace the first segment's signal to Ribos, a remote, backward planet that suffers from 32-year winters. There they are surprised to meet other interplanetary travelers, who include two conmen, Garron and Unstoffe, and the Graff Vynda-K, a warlord in the market for an inexpensive planet.
DVD EXTRAS INCLUDE:
Commentary by actors Tom Baker and Mary Tamm
Pop-Up Production Notes
Photo Gallery
Who's Who