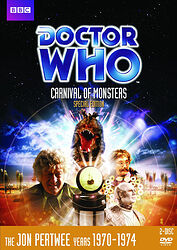 Edition:
US (special DVD)
Title:
Carnival of Monsters: Special Edition
Released:
April 2012

Publisher:
BBC Video
Format:
2 x DVD
Owned:
Buy:
Note: This is the same special edition (i.e. remastered and with additional extras) that was released in the UK and Australia as part of the Revisitations 2 box set.
Cover blurb:
Freed from his exile on Earth, the Doctor takes Jo on a test flight in the TARDIS, landing aboard SS Bernice, a cargo ship crossing the Indian Ocean in 1926.
As events take a dangerous and unexpected twist, it seems that their fate lies in the hands of a traveling showman named Vorg and his assistant Shirna, who have just arrived on the distant planet of Inter Minor with an amazing intergalactic peepshow called the Miniscope.
DVD EXTRAS INCLUDE:
Audio Commentary 1 by actor Katy Manning (Jo) and producer Barry Letts
Audio Commentary 2 By actors Peter Halliday (Pletrac), Cheryl Hall (Shirna), Jenny McCracken (Claire) and special sounds creator Brian Hodgson
Episode Two - Early Edit Longer, un-restored version (29 mins)
Destroy All Monsters! Making Of With Katy Manning, Cheryl Hall, Peter Halliday, Barry Letts, Terrance Dicks, Karilyn Collier and Colin Mapson (23 mins)
On Target With Ian Marter Retrospective of the actor and novelist (16 mins)
The A-Z Of Gadgets And Gizmos (11 mins)
Mary Celeste Experts discuss historical disappearances (18 mins)
Behind The Scenes (2 mins)
Visual Effects Models Unused model shots, trims and tests (8 mins)
'Five Faces of Doctor Who' Trailer (4 mins)
Director's Amended Ending (1 min)
CSO Demo Director Barry Letts demonstrates the then-new blue screen technique (3 mins)
TARDIS Cam 2 (1 min)
Photo Gallery (3 mins)
PDF Materials: Radio Times Listings
Production Notes Subtitle Option
Digitally remastered picture and sound quality
Originally transmitted January 27 - February 17, 1973