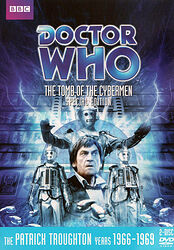 Edition:
US (special DVD)
Title:
The Tomb of the Cybermen: Special Edition
Released:
March 2012

Publisher:
BBC Video
Format:
2 x DVD
Owned:
Buy:
Note: This is the same special edition (i.e. remastered and with additional extras) that was released in the UK and Australia as part of the Revisitations 3 box set. And like Revisitations 3, the "Tombwatch" extra from the original DVD release has been removed due to rights issues, but all other extras from the original release are present.
Cover blurb:
For centuries, the disappearance of the Cybermen from the universe has been a mystery. The Doctor, Jamie and Victoria arrive on Telos — once the Cyber home world — just as an Earth expedition uncovers the entrance to a long-lost control center filled with baffling technology.
With the Doctor's help, the archaeological party discovers the last of the Cybermen, frozen and entombed in a vast underground cavern. But by entering the tombs, the humans have sprung a fiendish trap. All around them, the Cybermen begin to rise from the dead.
DVD EXTRAS INCLUDE:
Audio Commentary 1 by actors Deborah Watling and Frazer Hines (from 2001)
Audio Commentary 2 by actors Deborah Watling (Victoria), Frazer Hines (Jamie), Bernard Holley (Peter Haydon), Shirley Cooklin (Kaftan), Reg Whitehead (Cyberman) and script editor Victor Pemberton, moderated by Toby Hadoke
The Lost Giants Making Of with cast and crew (27 mins)
The Curse of the Cybermen's Tomb Christopher Frayling and Dr. Debbie Challis examine the ancient Egyptian origins of the story (14 mins)
Cybermen — Extended Edition History of the monsters from 1966 to new series (32 mins)
The Magic of VidFIRE (7 mins)
Morris Barry Introduction (3 mins)
Late Night Line-Up Jack Kine interview (3 mins)
Title sequence tests (3 mins)
The Final End Recreation of battle from The Evil of the Daleks (1 min)
Photo Gallery (3 mins)
PDF materials: Radio Times Listings, Walls Sky Ray promotion
Production Notes Subtitle Option
Digitally remastered picture and sound quality
Originally transmitted September 2 - 23, 1967