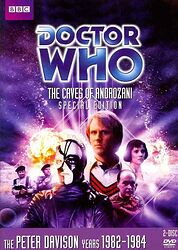 Edition:
US (special DVD)
Title:
The Caves of Androzani: Special Edition
Released:
February 2012

Publisher:
BBC Video
Format:
2 x DVD
Owned:
Buy:

| | | |
| --- | --- | --- |
| | | (Unable to fetch price) |
Note: This is the same special edition (i.e. remastered and with additional extras) that was released in the UK and Australia in 2010 as part of the Revisitations 1 box set.
Cover blurb:
On the cave-riddled world of Androzani Minor, the Doctor and Peri inadvertently find themselves enmeshed in a war fought between the ruthless General Chellak and the sinister Sharaz Jek and his army of androids.
The duplicitous politician Morgus wants Chellak to execute the time travelers as spies, while the disfigured Jek sees to keep Peri forever hostage within his stronghold. But the Doctor soon realizes an even more gruesome fate awaits them — they have been infected with fatal spectrox toxemia, and there is no cure.
Hunted by both factions and with death just hours away, how far must the Doctor go in order to save his friend's life?
DVD EXTRAS INCLUDE:
Audio Commentary by actors Peter Davison (the Doctor), Nicola Bryant (Peri) and director Graeme Harper
Chain Reaction Making of (36 mins)
Directing Who: Then and Now with Graeme Harper (12 mins)
Behind The Scenes — The Regeneration (8 mins) with optional commentary
Behind The Scenes — Creating Sharaz Jek (5 mins)
Extended Scenes (4 mins) with optional commentary
Russell Harty with Peter Davison and Colin Baker (8 mins)
News Reports on Peter Davison's departure (5 mins)
Isolated Music Score
Photo Gallery (5 mins)
PDF Materials: Radio Times Listings
Production Notes Subtitle Option
Digitally remastered picture & sound quality
Originally transmitted March 8, 9, 15, 16, 1984