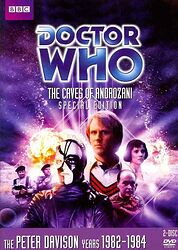 | | | |
| --- | --- | --- |
| | | |
| | Reviews for The Caves of Androzani | |
| | | |
There are 4 reviews so far. To add a review of your own for this item, visit the voting page.
By:
Theta Sigma, USA
Date:
Friday 19 September 2003
Rating:
7
This remains the ultimate Dr Who story from the original series. Peter Davison races against time to save his young friend Peri. Mercenaries and killer androids are evrywhere in the titular caves and not everyone is going to make it out alive. The DVD is even better with many behind the scenes featurettes including the Regeneration scene at the end of the four-part adventure. John Nathan Turner also makes an appearance in a rare news interview alongside his star to answer questions about the series' future.
| | | |
| --- | --- | --- |
| | | |
| | Its good but not THAT good | |
| | | |
By:
Ian, Leeds
Date:
Monday 8 December 2003
Rating:
7
Against the grain for most fans of this series, but this story is very average. The monster is unconvincing, the acting of all but Christopher Gable (Sharaz Jek)
is very mediocre (or because he was so good, her made the others look mediocre?) and the regeneration scene was only as good as when the first Dr changed into into the second about 20 year's before. If you are a big fan of the series, then this probably is already on your shelf. If you are a SCI-FI viewer or just a casual viewer, then I can only recommend that you look at other DR who's storys first.

| | | |
| --- | --- | --- |
| | | |
| | A lesson in TV storytelling | |
| | | |
By:
Michael C Smith, Edinburgh, UK
Date:
Friday 15 April 2005
Rating:
9
Watchability and longevity can (literally) be polls apart in Doctor Who. Many stories that impress on initial viewing just don't cut it when it comes to repeat viewing. This can often be the case in stories which rely on 'shock' value is at the heart of the story telling (see Earthshock). 'Who' at it's best does both. When character, suspense, design and cohesive production marry with genuinely shocking moments- this is where a story becomes truly 'classic'. Enter 'Caves of Androzani'.
Too many moments to mention, but for pure world-class story telling lets look to the shocking cliff-hangers ('nothing in the world can stop me now!' -the wet-vet, I don't think so!), incredible character development ('you think bullets can stop me?') and, of course, the build up and execution of one of the most moving regeneration's recorded for the series. No wonder Davidson had second thoughts about leaving. Lest we forget however, that for every Caves on his CV, there is also a 'Time Flight'; Bob Holmes again proving the script at the fundamental of the series.

By:
Matthew David Rabjohns, Bridgend, United Kingdom
Date:
Monday 1 November 2010
Rating:
10
The Caves of Androzani is definitely a very fine piece of storytelling. It is riddled with echoes of Phantom of the Opera, but it is by far better than any version of that film Ive ever seen. If a lot of Doctor Who stories can be called gritty and brilliant and shocking, then this tale is a real stone!

The strength of all the characters is one of the best things here. All the cast have such meat given to their characters. They all act with such zeal and relish too. This in fact is highly unbelievable as this was Grahame Harpers first directing job for Who. It really is excellently shot too.

Sharaz Jek is a supremely excellent and exciting character. Chris Gable gives one of the single finest acting turns as the horribly burnt scientist. And his scenes with Nicola Bryant are very emotional indeed. the scene where Jek has had his mask pulled off and goes to see if Peri is alright is an exquistiely directed scene, as Jek recoils and breaks down because he knows just how ugly he looks now due to that other extremely strong character Morgus. "Do you think bullets could stop me now?!" is one of the best lines in any story ever.

From the word go, this plot is so vividly brought to life, everyone gives the script a 110 percent. And to end it all with one of the best regeneration scenes is just the icing on the cake.

Peter's acting for the cliffhanger to part three is incredible. This is by far his best acting as the Doctor. He has a strength and heart that quite frequently wasnt present in a lot of other Doctor Who stories. Like another reviewer said, its no wonder he had second thoughts about leaving. But as a final story, he couldnt have gone out on a higher note.

This story's lighting too is spot on. Its so dark and effective and chilling. Even the Magma Beast isnt as bad as all that, and isnt shown too often either. The head of the thing is actually quite gross in fact. I love the twist of when Timmon takes over from Morgus! That scene is again awesome. I love it when the psychoes get their just desserts!

Rob Glenister too gives a brilliant turn as Salateen, well Ive already said this story is one of the most tense, gripping and thoroughly brilliant stories ever to have graced Doctor Who. Robert Holmes certainly returned with such gusto. No other Peter Davison tale was quite as emotionally driven as this final outting, except Kinda and Snakedance.....