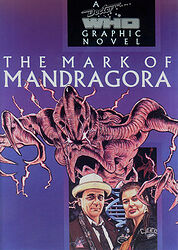 Cover blurb:
A Doctor Who graphic novel
'I'm beaten, Ace.'
At the end of the twentieth century, the Mandragora Helix returns to Earth to be re-born. And there's nothing the Doctor, Ace or UNIT can do to prevent it.
The Mark of Mandragora is the culminating story in this collection of comic strips first published in the Doctor Who Magazine and now available for the first time in full colour.
Among the writers and artists represented in this collection are luminaries of the Doctor Who world such as Andrew Cartmel, Lee Sullivan and Paul Cornell; favourite characters making guest appearances include Sarah-Jane Smith and the Brigadier.