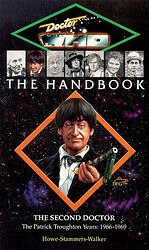 Note: Later reprinted as part of the omnibus editions The Handbook and The Handbook: Volume One.
Cover blurb:
Doctor Who is the world's longest-running science fiction television series. Each handbook will provide both a broad overview and a detailed analysis of one phase of the programme's history.
With the ground-breaking changeover from William Hartnell to Patrick Troughton, Doctor Who demonstrated that it could survive even the departure of the leading actor. Troughton's introduction energised the show, giving it a new lease of life. The writers also introduced or developed some of the show's most enduring characters: the resourceful Jamie McCrimmon and the orphaned Victoria Waterfield, companions who shared our screens with the Doctor's greatest enemies — the emotionless Cybermen, the militaristic Ice Warriors, the robotic Yeti and, of course, the Daleks.
This book is an in-depth study of Patrick Troughton's tenure as the Doctor, including a profile of the actor, a critical summary of each story in which he starred, an extensive feature on the making of The Mind Robber — a classic adventure set in the deadly Land of Fiction — and much more. The authors have established their reputation with best-selling books such as The Sixties and The Seventies, and their acclaimed work on the other books in the Handbook range.