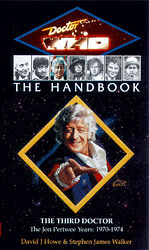 Note: Later reprinted as part of the omnibus editions The Handbook and The Handbook: Volume One.
Cover blurb:
Doctor Who is the world's longest-running science fiction television series. Each handbook provides both a broad overview and a detailed analysis of one phase of the programme's history.
Jon Pertwee burst on the scene as the new man-of-action Doctor in January 1970. Immediately, the series, now in full colour, took a whole new direction. The Earth-bound Time Lord, backed by the hugely popular UNIT team, soon became a household favourite as the show's traditional strengths were blended with elements of James Bond and the star's own dynamism and charisma.
This book is an in-depth study of Jon Pertwee's tenure as the Doctor, including a profile of the actor, a critical summary of each story in which he starred, an extensive feature on Day of the Daleks which saw the return of the Daleks to the series after almost five years away, and much more. The authors have established their reputation with best-selling books such as The Sixties and The Seventies, and their acclaimed work on the four previous books in the Handbook range.