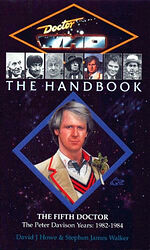 Note: Later reprinted as part of the omnibus editions The Handbook and The Handbook: Volume Two.
Cover blurb:
Doctor Who is the world's longest-running science fiction television series. Each handbook will provide both a broad overview and a detailed analysis of one phase of the programme's history.
When Peter Davison took over the part of the Doctor in 1982, he was already a familiar face on British television as the much-loved star of All Creatures Great and Small. Within a few months Davison had won acceptance for his sensitive portrayal and starred in some of the most adult and arguably best-written stories in the programme's history.
This book is an in-depth study of Peter Davison's tenure as the Doctor, including a profile of the actor, a critical summary of each story in which he starred, an extensive feature on the 20th-anniversary special The Five Doctors and much more.
The authors have established their reputation with best-selling books such as The Sixties and The Seventies, and their acclaimed work on the three previous books in the Handbook range.