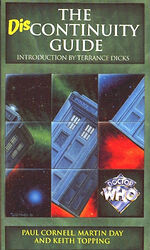 Edition:
UK (1st paperback)
Released:
May 1995

Publisher:
Virgin
ISBN:
0-426-20442-5
Format:
paperback
Owned:
Buy:
Cover blurb:
'Resistance is futile!'
Fluffs, goofs, double entendres, fashion victims, technobabble, dialogue disasters; these are just some of the headings under which every story in the Doctor's twenty-seven-year career is analysed.
Despite its humorous title, The Discontinuity Guide has a serious purpose. Apart from drawing attention to the errors and absurdities that are among the most lovable features of Doctor Who; this reference book provides a complete analysis of the story-by-story creation of the Doctor Who universe.
One sample story, Pyramids of Mars, yields the following gems:
Technobabble: a cytronic particle accelerator, a relative continuum stabiliser, and triophysics.
Dialogue Triumphs: 'I'm a Time Lord... You don't understand the implications. I'm not a human being. I walk in eternity.'
Continuity: the Doctor is about 750 years old at this point, and has apparently aged 300 years since Tomb of the Cybermen. He ages about another 300 years between this story and the seventh Doctor's Time and the Rani.
An absolute must for every Doctor Who fan. Wear your anorak with pride, and keep The Discontinuity Guide in its pocket!