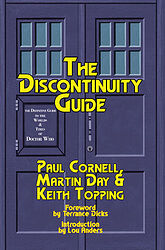 | | | |
| --- | --- | --- |
| | | |
| | Reviews for The Discontinuity Guide | |
| | | |
There are 6 reviews so far. To add a review of your own for this item, visit the voting page.
By:
Matt Bennett, Cardiff
Date:
Tuesday 23 August 2005
Rating:
10
A good barometer of the usefulness of a book is how well-thumbed it is. Certain pages of my copy of The Discontinuity Guide now resemble the Dead Sea Scrolls, such is my regular usage of this marvellous paperback. Ok, so it gets some of its facts wrong, but to dwell on this is to be churlish. The Discontinuity Guide is very, very funny, fresh, informative and a marvellous companion when watching a particular Doctor Who story on DVD or video. I believe it is about to be reissued in a revised form - you would do well to get a copy.
By:
Siskoid, Moncton, NB
Date:
Friday 14 October 2005
Rating:
10
Mine is constantly nearby since it contains a lot of useful or fun information on each episode of the classic series. Briefer than such guides as About Time, but where else can you get all the stories in one small package? Aside from the info, the essays trying to tie up continuity are good and useful, it collects a lot of great lines, doesn't mind laughing at the material, and has some fair criticism of each story.

Other books go more in-depth, but no other book is as accessible and casually perused.
| | | |
| --- | --- | --- |
| | | |
| | Good book but could be better... | |
| | | |
By:
Ben, East USA
Date:
Saturday 16 June 2007
Rating:
7
This is a splendid book for anyone remotely interested in watching Doctor Who. Pull it out and look up your favorite episodes to find plot holes and goofs you didn't notice or to hear a second opinion about the overall quality. The problem is that this book is organized acording to season number and not by Doctor number which makes episodes hard to find if you don't know what season they were in. But get it anyway. You'll read it.
By:
Trevor Smith, Nottingham, United Kingdom
Date:
Wednesday 23 January 2008
Rating:
10
Funny, intresting, thoughtful. What more do you want ? Highly recommended.
By:
Patrick, Sydney
Date:
Sunday 26 April 2009
Rating:
9
For many years, this was the best of those synopsis style books. Where this edges in front of those others (despite some small niggly mistakes) is the fun being poked at our favourite show. Not in any way nasty, but more of the laugh-out-loud variety. If it's still available, make this an amusing addition to your (chronologically ordered, of course) Doctor Who library.
| | | |
| --- | --- | --- |
| | | |
| | The Good, The Bad and the Doctor | |
| | | |
By:
Eric Anderson, Chaska, United States
Date:
Monday 12 March 2012
Rating:
9
What a fun romp! Over the long years, and many different crews, can get things a bit off and mistakes are bound to happen. How many time can you sink Atlantis? How old are you really Doctor? Keled or Dal? This gives you great dialog and the campy ones. The mistakes and flubs and where the timeline goes wrong. These are the things that made classic Who a joy and reminds us that overall, this show is fun. Read, laugh and enjoy.