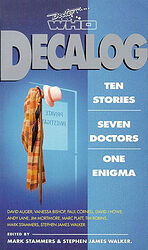 Cover blurb:
Ten stories — Seven Doctors — One enigma
Los Angeles. The war's over, the GIs are home, Truman's in the White House and the mobsters are making a killing — as usual.
Into the office of a private investigator walks a mysterious little man with a story that's out of this world. He says he's lost his memory. He wants the PI to help him. When he turns out his pockets, he produces a pile of bizarre objects, each of which restores a memory and solves a part of the puzzle.
And the memories seem to belong to seven different people.
Decalog is a new concept in Doctor Who fiction: A cycle of ten linked stories. The stories are written by authors who are well known to readers of the New Adventures or Doctor Who magazines — Paul Cornell, Marc Platt, Vanessa Bishop, Jim Mortimore, Andy Lane — and have been brought together by Mark Stammers and Stephen James Walker, who are part of the team that researches and writes in-depth factual books about Doctor Who such as The Sixties and the Handbook series.
Contents:
Playback by Stephen James Walker
Fallen Angel by Andy Lane
The Duke of Dominoes by Marc Platt
The Straw That Broke the Camel's Back by Vanessa Bishop
Scarab of Death by Mark Stammers
The Book of Shadows by Jim Mortimore
Fascination by David J. Howe
The Golden Door by David Auger
Prisoners of the Sun by Tim Robins
Lackaday Express by Paul Cornell