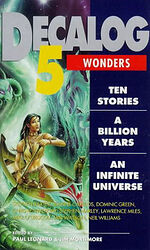 Note: This book was released after Virgin lost their Doctor Who publishing licence, so the Who connection is rather tenuous — the Doctor doesn't feature at all, and just one of the stories features New Adventures companion Bernice Summerfield.
Cover blurb:
Explore the Chamber of Whispers, where the voices of the past haunt the living; see the epic journey of a young Native American travelling along a river of stars to find out why the immortals abandoned the universe; and marvel at the solar system that defies the Laws of Physics — where, as the ancients believed, a planet is orbited by its sun.
Following in the tradition of four previous highly successful and acclaimed short story collections, Decalog 5 reveals all the strangeness and variety of human experience from the near future all the way to the end of time itself, in ten stories about the Wonders of the Universe.
From big to small, beautiful to evil: a river that spans the universe — and is slowly destroying it; a gallery where every whisper echoes for a thousand years; an eighth-century robot that answers all questions; and an artist whose final work is death.
As with previous Decalogs, the editors have sought out some of the best writing talent around, from established giants of SF to brilliant newcomers.
Content:
The Place of All Places by Nakula Somana
Poyekhali 3201 by Stephen Baxter
King's Chambers by Dominic Green
City of Hammers by Neil Williamson
Painting the Age with the Beauty of Our Days by Mike O'Driscoll
The Judgement of Solomon by Lawrence Miles
The Milk of Human Kindness by Liz Sourbut
Bibliophage by Stephen Marley
Negative Space by Jeanne Cavelos
Dome of Whispers by Ian Watson
Waters of Starlight by Stephen Marley