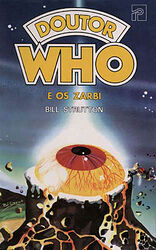 Edition:
Portugal (paperback)
Title:
Doutor Who e os Zarbi
Released:
January 1983

Publisher:
Editorial Presença
ISBN:
None
Format:
paperback
Owned:
Note: One of 10 Portuguese novelisations, all published in 1983 — the others were: The Auton Invasion, The Cave-Monsters, The Daemons, The Doomsday Weapon, The Sea-Devils, The Day of the Daleks, The Daleks, The Crusaders and The Abominable Snowmen.
Cover blurb:
As extraordinárias aventuras de Doutor Who, Senhor do Tempo, viajando no seu veículo espácio-temporal, o TARDIS, através de toda a galáxia, da imensa variedade dos seus mundos. Histórias plenas de imaginação, suspense e acção. Um grande êxito mundial.
Dr. Who viaja no seu veículo espacial Tardis para o planeta Skaro, onde se desenrola uma luta para salvar os pacíficos Thals do domínio dos Daleks. Conseguirá o Doutor Who os seus intentos? Ou, o que e mais importante, conseguirá ele regressar ao seu planeta nativo, a Terra?