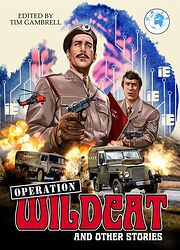 Edition:
UK (hardback)
Released:
March 2022

Publisher:
Candy Jar Books
ISBN:
None
Format:
hardback
Owned:
Buy:
Note: Purchasers of this limited-edition hardback also received a free copy of The Benton Files 2.
Cover blurb:
Join Benton and the Brigadier in thirteen short stories looking at life in the United Nations Intelligence Taskforce.
Have you ever thought what happened on Benton's first official day in UNIT, or why he left to sell used cars? Ever wondered how Benton earned his sergeant stripes? Or what he got up to on his days off? How Does UNIT select new recruits? What happened just before and after the dinosaur invasion of London? And what are the consequences when the clean-up after an alien incursion goes wrong, or someone messes with equipment best left alone?
In Operation Wildcat and Other Stories, you'll find these things out — and lots more.
Features stories by Ian Ball, Sharon Bidwell, Simon A Brett, Tim Gambrell, Baz Greenland, Sarah Groenewegen, Chris Lynch, Jonathan Macho, James Middleditch, Iain McLaughlin, John Peel and Martin Parker.
Based on the Doctor Who characters created by Mervyn Haisman, Henry Lincoln and Derrick Sherwin.

Inside cover flaps read as follows:
UNIT is a series of novels and stories set after the Candy Jar book series Lethbridge-Stewart and the Doctor Who TV serial The Invasion.
UNIT, the United Nations Intelligence Taskforce, is a military organisation, protecting Earth from home-grown hazards, international threats and alien invasion.
The adventures are primarily centred around the characters of Brigadier Alistair Lethbridge-Stewart, formerly of the Home Army Fifth Operational Corps (HAVOC) and Corporal — later Sergeant and RSM — John Benton.
UNIT also features Captain Turner, Sergeant Walters and Major Branwell, and will be telling the story of UNIT between the Doctor Who TV stories The Invasion and Spearhead from Space, and then further on. After all, there's no telling what UNIT got up to when the Doctor wasn't around...

Brigadier Lethbridge-Stewart first appeared as a colonel in the Scots Guards in the 1968 TV story The Web of Fear. When the character returned to battle the Cybermen in The Invasion later that same year, it was revealed he'd been promoted to Brigadier and placed at the head of the UK branch of UNIT.
It was during The Invasion that TV viewers first got to meet fresh-faced Corporal Benton. When Doctor Who returned to British TV screens in colour, in January 1970, UNIT, the Brigadier and the-also-recently promoted Sergeant Benton became regular cast members, much beloved of viewers nationally and internationally.
After 1975, UNIT began to be phased out of Doctor Who, although the ever-popular Brigadier returned in three more stories in the 1980s, one of which (Mawdryn Undead) showed that he had retired and become a maths teacher at a private school for boys. Benton, on the other hand, never appeared in Doctor Who on TV again. In Mawdryn Undead we were told he had left UNIT to sell used cars.
Captain Turner, Major Branwell and Sergeant Walters didn't appear in Doctor Who again after The Invasion. However, as the UNIT series will show, there was plenty going on to involve them all the while...