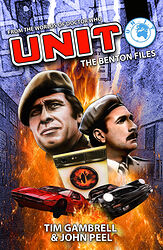 Description: Short (54 page) collection of two short stories featuring UNIT's Sergeant Benton, as played in Doctor Who by John Levene. Followed by The Benton Files 2.
Cover blurb:
Rifleman John Benton finds himself summoned to London, to the HQ of a brand-new organisation — UNIT — under Waterloo Station. There, he meets an old barrack room buddy, Major Bill Bishop, and UNIT's Commanding Officer, one Brigadier Lethbridge-Stewart.
The young rifleman is about to learn that not everything is as innocuous as it appears. Major Bishop has specially selected Benton to assist him on a mission — a mission that could change Rifleman John Benton's life forever.
Featuring two UNIT stories...
Into the Fire by Tim Gambrell
Car Wars by John Peel
UNIT: The Benton Files features characters created for Doctor Who by Mervyn Haisman, Henry Lincoln and Derek [sic] Sherwin.