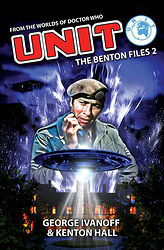 Description: Short (54 page) collection of two short stories featuring UNIT's Sergeant Benton, as played in Doctor Who by John Levene. Second in The Benton Files mini-series. This book was also given away for free to purchasers of Operation Wildcat.
Cover blurb:
It's all in the mind... Or is it?
Retired Sergeant Major John Benton recounts two more tales of his experiences serving under Brigadier Lethbridge-Stewart in the United Nations Intelligence Taskforce.
In George Ivanoff's The Lady Jessica Affair, Benton and the Brigadier take tea with an apparently harmless elderly lady at her stately home — and end up defending the world.
In Kenton Hall's Life Assurance, life has apparently thrown a different set of circumstances John Benton's way. But will he be able to find a path back to his true calling?
UNIT: The Benton Files II features characters created for Doctor Who by Mervyn Haisman, Henry Lincoln and Derrick Sherwin.