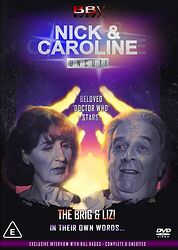 Description: DVD release of a pair of 1990s interviews with ex-Doctor Who stars Caroline John (Liz Shaw) and Nicholas Courtney (the Brigadier), both originally recorded for 30 Years of Time Travel and Beyond. Clips from these interviews have also been re-used as special features on several BBC Doctor Who DVDs over the years — however, this is the first release of the full unedited interviews.
Cover blurb:
BRIGADIER LETHBRIDGE-STEWART | DR LIZ SHAW
NICHOLAS COURTNEY | CAROLINE JOHN

In loving memory of:
William Nicholas Stone Courtney
(16/12/1929 — 22/02/2011)
Courtney was born in Cairo, Egypt & was educated in both France & Kenya. He did his national service in the British Army, leaving after 18 months as a private.
Courtney made his first appearance in the legendary sci-fi series Doctor Who in the 1965 serial The Daleks' Master Plan, where he played Space Security Agent Bret Vyon opposite William Hartnell as the Doctor.
In the 1968 serial The Web of Fear, he portrayed Colonel Lethbridge-Stewart, returning in the next season in The Invasion, now promoted to the rank of Brigadier.

Caroline Frances John
(19/09/1940 — 5/06/2012)
John played the role of the Doctor's companion in 1970 opposite Jon Pertwee's 3rd Doctor. Unlike most of the preceding & subsequent female companions of the Doctor, Shaw was a brilliant scientist & understood much of the Doctor's technobabble.
Shaw & the Doctor discussed things on a more equitable level of intelligence, & the Doctor respected & rarely patronised her.

This DVD marks the first-time the exclusive interview with Bill Baggs has been released in full, completely uncut & unedited.