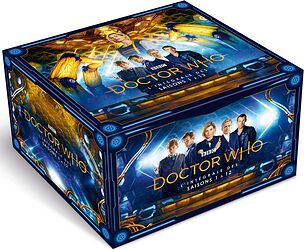 Description: France-exclusive DVD box set featuring all series from the Ninth, Tenth, Eleventh and Twelfth Doctors, plus the Thirteenth Doctor's first two series. However, The Christmas Invasion and The Husbands of River Song are both missing, since this box set is basically a repackaging of the French Season 1-12 separate releases, and those two episodes were not included on any of those releases.
Cover blurb:
La série mythique, DOCTOR WHO, référence mondiale en matière de science-fiction, revient dans un coffret intégral collector.
Retrouvez Christopher Eccleston (The Leftovers), David Tennant (Broadchurch), Matt Smith (The Crown), Peter Capaldi (Paddington) et Jodie Whittaker (Broadchurch) dans 12 saisons explosives !

INCLUS DANS CE COFFRET 59 DVD:
12 SAISONS
16 ÉPISODES SPÉCIAUX DONT LE SPÉCIAL 50ÈME ANNIVERSAIRE
PRÈS DE 9H DE BONUS