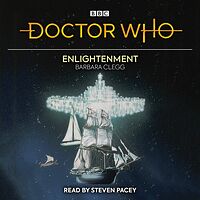 Note: Audio reading of Barbara Clegg's 1984 novelisation.
Cover blurb:
Steven Pacey reads this intriguing novelisation of a classic Fifth Doctor TV adventure
"This range of classic Target audiobooks continues to go from strength to strength..."
Doctor Who Magazine
In response to the White Guardian's warning of great danger, the TARDIS materialises on the heaving deck of an Edwardian racing yacht.
But the Doctor soon discovers that this is no ordinary yacht — and no ordinary race. Captain Striker is competing for an unusual prize: 'Enlightenment'.
The crew will be lucky to reach port safely. But with such a prize, would they be lucky to win?
Steven Pacey reads Barbara Clegg's complete and unabridged novelisation of her own TV adventure, first published by Target Books in 1984.
PLEASE NOTE: Some of the terminology used in the story reflects the era in which it was written.