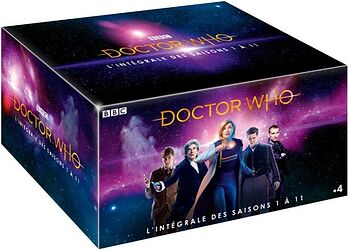 Description: France-exclusive DVD box set featuring all series from the Ninth, Tenth, Eleventh and Twelfth Doctors, plus the Thirteenth Doctor's first series. However, The Christmas Invasion and The Husbands of River Song are both missing, since this box set is basically a repackaging of the French Season 1-11 separate releases, and those two episodes were not included on any of those releases.
Cover blurb:
No cover information available yet.
Help wanted! Do you own this item? Please help make this site more complete by emailing me details of the back cover blurb. Thanks!