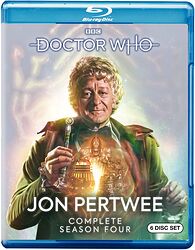 Edition:
US (Blu-ray)
Title:
Jon Pertwee: Complete Season Four
Released:
October 2019

Publisher:
BBC Video
Format:
6 x Blu-ray
Owned:
Buy:
Note: It's curious to note that Jon Pertwee's head (and only his head) is flipped mirror-image compared to the UK and Australian covers.
Cover blurb:
A classic season featuring the Third Doctor — all 26 episodes newly restored for Blu-ray and packed with bonus material.
• THE THREE DOCTORS • CARNIVAL OF MONSTERS • FRONTIER IN SPACE • PLANET OF THE DALEKS • THE GREEN DEATH
With BRAND NEW SPECIAL FEATURES including:
OPTIONAL UPDATED EFFECTS AND 5.1 SURROUND SOUND For Planet Of The Daleks
DOCTOR WHO AND THE THIRD MAN A new feature-length documentary covering the Pertwee era
KEEPING UP WITH THE JONESES Katy Manning and Stewart Bevan return to Wales
LOOKING FOR LENNIE The life and career of director Lennie Mayne
THE GREEN DEATH 1973 OMNIBUS REPEAT Available for the first time
SPECIAL BLU-RAY TRAILER Featuring the return of Jo and Cliff Jones
Each disc also features extensive Special Features previously released on DVD including MAKING-OF DOCUMENTARIES, FEATURETTES, RARE FOOTAGE, AUDIO COMMENTARIES, INFO TEXT, BONUS EPISODES FROM THE SARAH JANE ADVENTURES AND MUCH MORE.