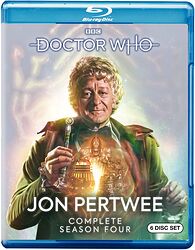 | | | |
| --- | --- | --- |
| | | |
| | Reviews for The Collection: Season 10 | |
| | | |
There are 2 reviews so far. To add a review of your own for this item, visit the voting page.
By:
Matthew David Rabjohns, Bridgend, United Kingdom
Date:
Saturday 20 July 2019
Rating:
10
Yes, there is a considerable improvement in picture and sound quality. Honestly the colour of the show has never looked more wonderful and rich. Yes, this may not be quite as awesome as the sublime Spearhead from Space Blu Ray release, but considering studio camera work is renowned for being hard to produce in HD it doesn't half look stunning still. In fact if anything its all the studio scenes that look the most clear and beautiful in these sets strangely. Not a blip at all. It just thoroughly enhances your enjoyment of the stories of Season 10. And this season was a really strong one, story wise too and brilliant to see them get a loving restoration. Honestly these stories have never ever looked so beautiful. And the bucketload of extras you receive is superb.

The Three Doctors was a wonderful tenth birthday special story that succeeded in brilliantly bringing back Pat and William together with Jon for a very memorable and enjoyable romp together with Doctor Who brilliant villain Stephen Thorne!
Carnival of Monsters was one of Robert Holmes classiest and most imaginative stories of all and the Drashigs were superbly realised. I don't even give a toss about how sometimes the bad CSO lets the show down because it was a budgeted show and it was always awesome no matter how wonky the effects were!
Frontier in Space is brilliant space opera, the show's finest ever stab at that type of story in my opinion. Some superb model work shots and the Draconians and Ogrons are fabulous monsters and aliens indeed. And the poignant last performance of Roger Delgado is just so bittersweet but wonderful.
Planet of the Daleks is Terry Nation's greatest hits presented in a wonderful comic strip styling. Love all the characters and the daleks are back in force and the Ice Volcano is a well realised and brilliant idea.
The Green Death is a lovely and extremely strong goodbye to one of the best companions ever in the show. It also has powerhouse performances and the Giant Maggots are sublimely realised and look so damn realistic. And Jo's goodbye is very moving and touchingly done indeed.

It is an absolute joy to watch the Behind the Sofa segments with Katy Manning, Richie Franklin and John Levene because they exude love for the show and this just totally hooks you and you just love watching these brilliant new extras. Behind the Sofa is an awesome conceptual thing that I just love most, and never more so than when sitting watching Katy, John and Rich wax lyrical on how much they love the show!

All the other rare archive stuff too is amazing. Its wonderful seeing Jon on old news reports and the new feature length documentary of the Third Doctor era maybe just could have had a few more clips from the series as this one for once just felt a tad boring, and nothing anyone said in the documentary was anything I hadn't heard on countless documentaries before. But the Panopticon snippets are totally brilliant!

Keeping up with the Joneses though is my favourite extra of all. Its lovely watching Stewart Bevan and Katy revisit all the people and locations from the The Green Death. Katy seems so sweet and bubbly that the joy she exudes is infectious indeed. Its a delightful little drama and worth buying the set for this alone, let alone all the wonderful other titbits and excerpts from the archives!

The Season Ten Blu Ray set is an unequivocal success story. Its such a tribute to the people who made this season for television back in 1973. I think Jon Pertwee would have been proud of this set himself. Oh how I miss that oh so awesome moral James Bond-esque Doctor so much to this day!
By:
Trixie Fox, El Paso, United States
Date:
Friday 14 August 2020
Rating:
10
A great season, all 5 stories are bangers.
Great extras too, wonderful.