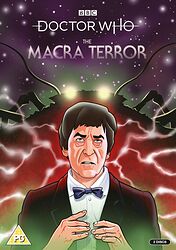 Edition:
UK (DVD)
Released:
March 2019

Publisher:
BBC Video
Format:
2 x DVD
Owned:
Buy:
Cover blurb:
The original 1967 master recordings of 'The Macra Terror' were lost soon after the programme's original transmission. However, audio-only recordings have survived and have been used here to create a brand new fully animated reconstruction of this lost classic.
The Doctor (Patrick Troughton) and his companions (Jamie, Polly and Ben) arrive on a human colony in the far flung future. The colony outwardly appears to be happy and carefree. But behind its cheerful exterior, the colony has been secretly infiltrated by a race of giant parasitic crab creatures called Macra.
The Macra brainwash the human colonists to mine toxic gas in the levels below the colony. Ruling the settlement from a control centre in the heart of the main city, they scuttle around at night looking for food.
The Doctor's friend Ben is soon taken over by the Macra and under their malign influence, he turns against the Doctor. As their influence spreads, the Doctor sets out to bring an end to the Macra terror.
SPECIAL FEATURES
Audio Commentary
Episode Reconstructions
Bonus Mini-Episode
Animation Test
Animatics
Animation Gallery
Teaser Trailer
Alternative Black and White Presentation
1992 Audio Presentation
Surviving Footage
Behind the Scenes Film
Censored Scene
Title Sequences
Photo Gallery
Production Paperwork