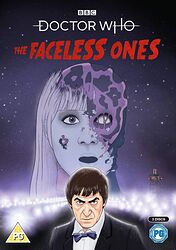 Edition:
UK (DVD)
Released:
March 2020

Publisher:
BBC Video
Format:
3 x DVD
Owned:
Buy:
Cover blurb:
The Doctor and his friends Ben, Polly and Jamie arrive at Gatwick airport. They quickly stumble upon an alien plot, centring upon the mysterious 'Chameleon Tours' — a low-price holiday company, whose young passengers have been vanishing in unexplained circumstances.
With the help of Scotland Yard and the airport staff, the Doctor investigates further, but it isn't long before his own friends start disappearing too.
What is happening to the passengers of Chameleon Tours? Where are the company's planes really going? Can the Doctor unravel the mystery of Chameleon Tours before it's too late?
Most of the BBC's original 1967 master recordings for 'The Faceless Ones' were lost soon after the programme's original transmission. However, audio-only recordings have survived and have been used here to create a brand new fully animated reconstruction of this lost classic.
INCLUDES
Colour Animated Episodes 1-6*
Black & White Animated Episodes 1-6*
The Original Episodes 1 & 3*
Telesnap Reconstructions of Original Episodes 2, 4, 5 & 6* (with optional Production Subtitles)
Audio commentaries (Animated Episodes 4, 5 & 6, plus Original Episodes 1 & 3)
Face to Face with the Faceless Ones (Making of)
Stock Footage from Original Production
Surviving Film Fragments
Trailer — Fury from the Deep
PDFs

*With Remastered Audio by Mark Ayres