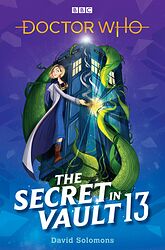 Edition:
US (hardback)
Released:
November 2018

Publisher:
Random House
ISBN:
978-1-984895-98-1
Format:
hardback
Owned:
Buy:
Cover blurb:
THE DOCTOR IS IN. AND SHE HAS NEVER FACED A CHALLENGE QUITE LIKE THIS.
A sinister school where graduation means death...
A monstrous mystery lurking beneath a quiet London street...
A desperate plea for help delivered by... Hang on. A POTTED PLANT?

Inside cover flaps read as follows:
THE DOCTOR HAS BEEN SUMMONED.
At the coldest spot in the universe, from which nobody has ever returned, lies the Galactic Seed Vault. For generations it has existed to store and preserve plant seeds from across the galaxy, ensuring that in the event of planetary catastrophe, the seeds will survive.
And at its heart lies a secret: Vault 13, unopened for millions of years.
No one is sure what it contains. There are rumors of a great treasure... and a terrible weapon.
Can the Doctor and her friends Yaz, Ryan, and Graham uncover the shocking secret in Vault 13?

DAVID SOLOMONS is the bestselling author of the My Brother Is a Superhero seies. In addition to his acclaimed children's fiction, David Solomons has been writing screenplays for many years; his first feature film was an adaptation of Five Children and It. He was born in Glasgow, Scotland, and lives in Dorset, England, with his wife, the novelist Natasha Solomons; their son, Luke; and their daughter, Lara.
He is a lifelong Doctor Who fan.