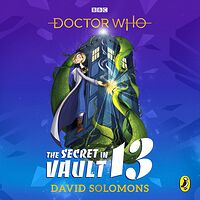 Note: Audio reading of the 13th Doctor children's novel.
Cover blurb:
A SINISTER SCHOOL WHERE GRADUATION MEANS DEATH . . .
A MONSTROUS MYSTERY LURKING BELOW A QUIET LONDON STREET . . .
A DESPERATE PLEA FOR HELP DELIVERED BY — HANG ON . . . A POTTED PLANT?
The Doctor has been summoned.
The galaxy is in terrible danger, and only a Time Lord can save it.
But to do so, she must break in to an ancient vault on a remote and frozen world — from which nobody has ever returned alive . . .
Can the Doctor and her friends Yaz, Ryan and Graham uncover the shocking secret in Vault 13?
A thrilling, hilarious and scary adventure for the Thirteenth Doctor, as portrayed by Jodie Whittaker.