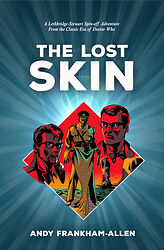 Note: Limited edition novella, the first two parts of which were previously published in The HAVOC Files 2 and The HAVOC Files 3.
Cover blurb:
Brigadier Lethbridge-Stewart is on leave in New York, but in Scotland word reaches the Fifth Operational Corps that Harold Chorley, journalist and pain in Lethbridge-Stewart's rear, has got wind of the Corps' presence in Stirling.
A plan is set in motion to take Chorley on a wild goose chase to John o Groats, as far from the Corps as possible. RSM Samson Ware and Professor Travers travel to the edge of Scotland, leaving a trail of breadcrumbs, which are picked by Chorley and his old chum, Larry Greene.
But it soon becomes clear that there is a real mystery in John o' Groats, a strange link between Mhairi Docherty, a woman from Huna, and the Orkney Islands, and the local legend of the Selkie. To protect Mhairi, Samson needs to sideline Chorley and Greene, but the ever-erratic Professor Travers has other plans.
What is drawing Mhairi to the Orkney Islands? What hold does Chorley have over Greene? And, more importantly, what links Chorley and Greene to the secret history of Mhairi?