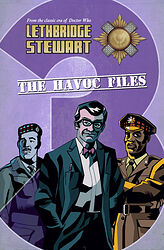 Edition:
UK (1st paperback)
Released:
March 2017

Publisher:
Candy Jar Books
ISBN:
None
Format:
paperback
Owned:
Buy:
Note: Limited edition of 400 copies.
Cover blurb:
Strange fungoid creatures in Hull, a deserted Scottish village at Hallowe'en, wishes coming true, and a special mission for Samson and Evans in Llanfairfach.
Young Alistair Lethbridge-Stewart and his friends investigate strange happenings in Pengriffen, and Professor Travers returns to Tibet, only to find he's being followed by enemy agents.
Five short stories previously only available in digital format, published in print for the first time. Plus three brand new adventures, and part two of the exclusive three-part novella, The Lost Skin.
A collection of short stories from the classic era of Doctor Who, starring Brigadier Lethbridge-Stewart and Anne Travers, based on the characters and concepts created by Mervyn Haisman and Henry Lincoln
Contents:
The Bledoe Cadets and the Bald Man of Pengriffen by Tim Gambrell
The Last Duty by Christopher Bryant
Eve of the Fomorians by Robert Mammone
The Wishing Bazaar by Sharon Bidwell
The Feast of Evans by Simon A Forward
Home for Christmas by The Author Collective
Slouching Towards Det-Sen by Shaun Collins
Lucy Wilson by Sue Hampton

and

The Lost Skin by Andy Frankham-Allen (part two of a brand-new novella)