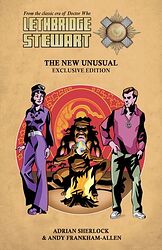 Edition:
UK (1st paperback)
Released:
May 2018

Publisher:
Candy Jar Books
ISBN:
Unknown
Format:
paperback
Owned:
Buy:
Note: Limited edition of 400 copies.
Cover blurb:
"The Brigadier is such an integral part of Doctor Who mythos, it seems right and proper he now has his own series."
Doctor Who Magazine
It's the early 1970s, a time of change, a time of turmoil, a time of surrealism, LSD and the Age of Aquarius, a time of fads, Moon landings and wars, and the young people of the world are seeking something new — and unusual!
For Anne Travers, an encounter with a so-called "dream egg" is just the beginning of a long nightmare. Her scientific curiosity aroused, Anne begins to probe the secret underground scene known as "dream-ins" where students and others meet to get involved with a new craze and, perhaps, something far more alien to human experience.
And for Brigadier Lethbridge-Stewart, who finds himself drawn into Anne's investigations, this probe will lead him and the Fifth Operational Corps to the wilderness of the Australian Outback, to a little opal mining town called Coober Pedy and a search for answers.
A series of novels from the classic era of Doctor Who, starring Brigadier Lethbridge-Stewart and Anne Travers based on the characters and concepts created by Mervyn Haisman and Henry Lincoln.