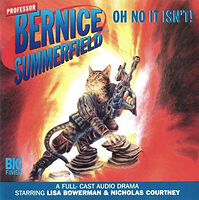 Edition:
UK (2nd CD)
Title:
Professor Bernice Summerfield: Oh No It Isn't!
Released:
December 1999 (Exact date unconfirmed)

Publisher:
Big Finish
ISBN:
1-903654-30-0
Format:
2 x CD
Owned:
Buy:

New:

£5.98

£4.99 Save 17%
Used:
£0.94

| | | |
| --- | --- | --- |
| | | (Unable to fetch price) |
Note: Re-release with new cover art to match the subsequent releases in the Bernice Summerfield range. (Same ISBN as the original CD edition)
Cover blurb:
Professor Bernice Summerfield: 26th century archaeology professor, and tutor at St. Oscar's University on the planet Dellah. Prone to getting involved in adventures, scrapes and general derring-do armed only with her wits, cunning and a flask of brandy! Aged about 35ish, but frequently says she's younger. Odd that...
Wolsey: Bernice's pet tabby cat. Her constant companion, shoulder to cry on and convenient excuse, as in: 'Oh sorry. I need to be somewhere else because a certain someone requires feeding'. Has not possessed the ability to speak English before. But then again, he's never grown much taller than fourteen inches either.
Pantomime: A theatrical humourous event, usually based around myths and fairy tales. Its origins lie in British harlequinades, although the word derives from the Roman pantomimus, where one actor mimed several different historically-based characters. More familiarly associated with children's Christmas entertainment of the late twentieth and early twenty-first centuries.
The Grel: Seekers of information. Somewhat literal in their thinking and lacking much imagination they do, however, usually get what they want.