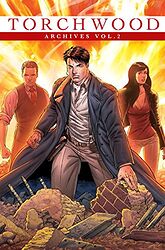 Note: Collection of comic strips originally published in Torchwood Magazine between 2008-2010. Follow-up to Torchwood Archive Vol. 1.
Cover blurb:
TORCHWOOD. BRITAIN'S FIRST LINE OF DEFENCE AGAINST ALIEN THREATS. GUARDING THE RIFT FROM ANYTHING THAT SEEKS TO COME THROUGH IT AND THREATEN THE EARTH.
Captain Jack Harkness, the immortal former Time Agent and all-round charmer, leads his now sadly depleted team — former cop Gwen Cooper and the ever-loyal Ianto Jones — against those who would seek to harm the Earth.
In this collection of stories, the team must deal with everything from the mysterious Bilis Manger to a haunted house and a family of arachnid aliens
Reprints comic strips and prose stories originally printed in The Official Torchwood Magazine and Torchwood comic issues #4 to #6, now collected for the first time!