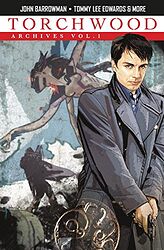 Note: Collection of comic strips originally published in Torchwood Magazine between 2008-2010. Followed by Torchwood Archive Vol. 2.
Cover blurb:
TORCHWOOD. BRITAIN'S FIRST LINE OF DEFENCE AGAINST ALIEN THREATS. GUARDING THE RIFT FROM ANYTHING THAT SEEKS TO COME THROUGH IT AND THREATEN THE EARTH.

Captain Jack Harkness, the immortal former Time Agent, leads his team — ex-cop Gwen Cooper, Doctor Owen Harper, scientist Toshiko Sato and assistant Ianto Jones — in using alien technology for humanity's benefit. In this collection of stories, the team must combat everything from the mythical Selkie to a potential second Ice Age threatening Cardiff!
Reprinting comic strips and prose stories that originally appeared in The Official Torchwood Magazine, now collected for the very first time!
Includes work from John and Carole Barrowman, Gareth David-Lloyd, Brian Minchin, Tommy Lee Edwards, Pia Guerra, Steve Yeowell, Mike Dowling and more!