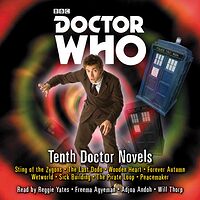 Note: Follow-up to Tenth Doctor Tales and first of a series of Tenth Doctor Novels releases. CD box set containing 8 previously-released abridged audiobook readings of 10th Doctor novels: Sting of the Zygons, The Last Dodo, Wooden Heart, Forever Autumn, Wetworld, Sick Building, The Pirate Loop and Peacemaker.
Cover blurb:
Freema Agyeman, Reggie Yates, Adjoah Andoh and Will Thorp are the readers of these eight original novels featuring the 10th Doctor and Martha, as played on TV by David Tennant and Freema Agyeman
Join the Doctor and Martha on these journeys in Time and Space as they encounter a giant beast in the Lake District, a hoard of extinct animals, a vast woodland in space, nightmarish Halloween creatures, dangerous swamp life, a vanished spaceship and a mysterious medicine man.
Sting of the Zygons
by Stephen Cole • Read by Reggie Yates
The Last Dodo
by Jacqueline Rayner • Read by Freema Agyeman
Wooden Heart
by Martin Day • Read by Adjoa Andoh
Forever Autumn
by Mark Morris • Read by Will Thorp
Wetworld
by Mark Michalowski • Read by Freema Agyeman
Sick Building
by Paul Magrs • Read by Will Thorp
The Pirate Loop
by Simon Guerrier • Read by Freema Agyeman
Peacemaker
by James Swallow • Read by Will Thorp
Based on the hit BBC TV series.