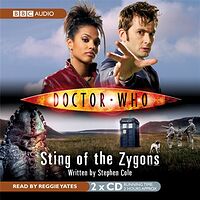 Note: Abridged audio reading of the new series novel of the same name. In 2017 was re-released as part of the Tenth Doctor Novels box set.
Cover blurb:
Reggie Yates reads this gripping story of a giant Beast, a desperate hunt and a race to save the world.
The TARDIS lands the Doctor and Martha in the Lake District in 1909, where a small village has been terrorised by a giant, scaly monster. The search is on for the elusive 'Beast of Westmorland', and explorers, naturalists and hunters from across the country are descending on the fells. King Edward VII himself is on his way to join the search, with a knighthood for whoever finds the Beast.
But there is a more sinister presence at work in the Lakes than a mere monster on the rampage, and the Doctor is soon embroiled in the plans of an old and terrifying enemy.
As the hunters become the hunted, a desperate battle of wits begins — with the future of the entire world at stake...
This title features the Doctor and Martha, as played by David Tennant and Freema Agyeman in the hit series from BBC Television. The story is read by Reggie Yates, who plays Leo Jones in the series.