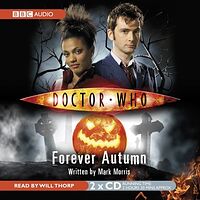 Note: Abridged audio reading of the new series novel. In 2017 was re-released as part of the Tenth Doctor Novels box set.
Cover blurb:
Will Thorp reads this spine-chilling story of monsters, mystery and a magical spellbook
It is almost Halloween in the sleepy New England town of Blackwood Falls. Paper skeletons hang in windows and carved pumpkins leer from porches.
The Doctor and Martha soon discover that this will be no ordinary Halloween. What is the secret of the ancient tree and the book discovered tangled in its roots? What rises from the local churchyard at night, sealing up the lips of the only witness? Why are the harmless trappings of Halloween taking on a creepy new life of their own? As nightmarish creatures prowl the streets, the Doctor and Martha must battle to prevent both the townspeople and themselves from suffering a grisly fate...
Featuring the Doctor and Martha as played by David Tennant and Freema Agyeman in the hit series from BBC Television, the story is read by Will Thorp, who played Toby Zed in the TV episodes The Impossible Planet and The Satan Pit.