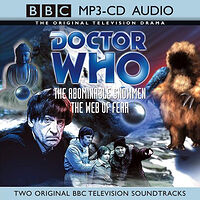 Edition:
UK (MP3-CD)
Title:
The Abominable Snowmen & The Web of Fear
Released:
April 2003

Publisher:
BBC Audio
ISBN:
0-563-49418-2
Format:
2 x MP3-CD
Owned:
Buy:

| | | |
| --- | --- | --- |
| | | (Not currently available) |

| | | |
| --- | --- | --- |
| | | (Not currently available) |

| | | |
| --- | --- | --- |
| | | (Not currently available) |
Cover blurb:
PATRICK TROUGHTON BRAVES A DOUBLE DOSE OF YETI IN THESE EXCLUSIVE RECORDINGS OF TWO CLASSIC 'LOST' TELEVISION ADVENTURES, WITH LINKING NARRATION BY FRAZER HINES
The Abominable Snowmen
The TARDIS lands in the snowy Himalayas, and the Doctor is astonished to find the Detsen monastery under attack, apparently from the Yeti which are said to roam the mountainside. Furthermore, the Doctor discovers that his friend the High Lama is still alive, his ancient body under the influence of an apparently unearthly force...
The Web of Fear
When The TARDIS arrives in the tunnels of the London Underground, the Doctor, Jamie and Victoria are reunited with Professor Travers from their Tibetan adventure. But the Great Intelligence is also on Earth, and it wants to drain the Doctor's mind. Can the armed forces, led by Colonel Lethbridge-Stewart, help the time travellers in their mission to stop it?
Also available individually on CD
MP3-CDs offer the same high-quality sound as standard CDs, using a fraction of the disc space. Digitally remastered for optimal sound quality, they are able to hold more tracks than a regular CD. MP3-CDs can be played on any MP3 compatible devices, including home computers, DVD players and certain portable CD players. Important: MP3-CDs cannot be played on non-compatible devices. Please make sure your player is compatible before purchasing this MP3-CD.