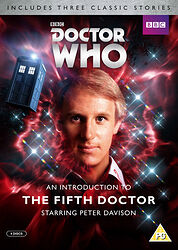 Description: DVD compilation exclusive to UK retailer HMV, containing the previously-released Doctor Who TV stories Earthshock, The Caves of Androzani (2-disc special edition) and Castrovalva.
Cover blurb:
CASTROVALVA
The Doctor defeats the Master's plans to hold the Universe to ransom, but at a high cost to himself — plummeting from the Pharos Project radio telescope, the Doctor regenerates. The time travellers escape the Master's clutches, but the Doctor's regeneration is failing, and Adric goes missing in the depths of the TARDIS. Only Nyssa and Tegan can save the day, steering the timeship towards the city of Castrovalva, renowned for its healing powers. But evil lurks at the heart of this rural paradise...
EARTHSHOCK
The TARDIS arrives in the 26th Century in a cave system containing numerous dinosaur fossils. The Doctor's Party comes under suspicion from a military force, led by Lieutenant Scott, who are investigating the disappearance of a group of palaeontologists and geologists. The Doctor manages to deactivate a bomb intended by the Cybermen to destroy an imminent peace conference. He then follows the bomb's activating signal to an approaching space freighter, commanded by captain Briggs, on board which it transpires that an army of Cybermen are concealed...
THE CAVES OF ANDROZANI
On the cave-riddled world of Androzani Minor, the Doctor and Peri inadvertently find themselves enmeshed in a war fought between the ruthless General Chellak and the sinister Sharaz Jek and his army of androids. The duplicitous politician Morgus wants Chellak to execute the time travelers as spies, while the disfigured Jek sees to keep Peri forever hostage within his stronghold. But the Doctor soon realizes an even more gruesome fate awaits them — they have been infected with fatal spectrox toxemia, and there is no cure....
PLUS SPECIAL FEATURES