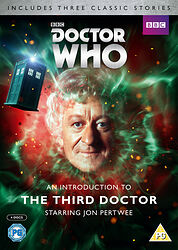 Description: DVD compilation exclusive to UK retailer HMV, containing the previously-released Third Doctor TV stories The Dæmons, The Time Warrior and Spearhead from Space — in the case of the latter, the included version is the 2011 special edition DVD, previously only available in the UK as part of the Mannequin Mania box set.
Cover blurb:
SPEARHEAD FROM SPACE
Exiled to Earth in the late 20th Century by his own people — the Time Lords — the newly regenerated Doctor joins old friend Brigadier Alistair Gordon Lethbridge-Stewart, who is now leading the newly formed United Nations Intelligence Taskforce (UNIT) in investigating mysterious disappearances. The Nestenes have arrived, and want to conquer the Earth...
THE DÆMONS
In the peaceful village of Devil's End something very strange is happening. A professor is preparing to open a nearby burial mound and a local white witch has foreseen death and disaster. Meanwhile, the new vicar looks suspiciously like the Master and he is using black magic to conjure up an ancient Dæmon.
Can the Doctor, Jo and UNIT stop their old enemy before he succeeds?
THE TIME WARRIOR
The Doctor is called in by UNIT to investigate when a number of scientists go missing from a top security institute. Following the kidnappings back in time to the Middle Ages, he is unaware that investigative journalist Sarah Jane Smith has stowed aboard the TARDIS.

PLUS SPECIAL FEATURES