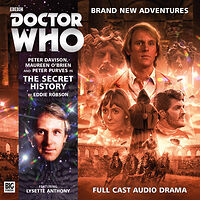 Cover blurb:
The TARDIS brings the Doctor, Steven and Vicki to the Italian city of Ravenna in the year 540 — besieged by the army of the celebrated Byzantine general Belisarius. Caught up in the fighting, Steven ends up on a boat bound for Constantinople, the heart of the Roman Empire.
Rescuing Steven, however, is the least of the Doctor's problems — because he shouldn't be mixed up in this particular adventure at all. Someone has sabotaged his own personal timeline, putting him in the place of his First incarnation... but who, and why?
The truth is about to be revealed — but at what cost to all of the Doctors, and to the whole future history of the planet Earth?