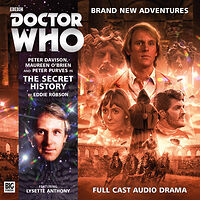 | | | |
| --- | --- | --- |
| | | |
| | Reviews for The Secret History | |
| | | |
There are 2 reviews so far. To add a review of your own for this item, visit the voting page.
| | | |
| --- | --- | --- |
| | | |
| | A great end to the Locum Docs... | |
| | | |
By:
Matthew David Rabjohns, Bridgend, United Kingdom
Date:
Thursday 14 January 2016
Rating:
10
Its been great to hear later Docs with earlier companions. Here the trilogy comes to a brilliant head with the return of an old psycho and a new one! And I always have loved Lysette Anthony, a first class actress. Peter Davison is on high form and goes really well with Steven and Vicki, and Peter and Maureen easily bring these sixties characters back to brilliant life again in this highly brilliant tale from the ever reliable and clever Eddie Robson. Im so glad Big Finish consistently choose the best writers to still keep all the classic Doctors alive and kicking. This trilogy really does have the overtones of a Will Hartnell story, and its a great end....
By:
David Layton, Los Angeles, United States
Date:
Monday 10 February 2020
Rating:
7
This ends a trilogy that has been going backwards from the Doctor's perspective - Doc 7, then Doc 6, now Doc 5. In each case, he finds himself taken out of his normal time line and placed in an earlier time line with companions from his earlier self. Someone has been messing with The Doctor's History, but who, and why? (Part of the answer is in the Doctor 8 episode "Lucie Miller." Holy tie-ins, Batman). Here, we get Doctor 5 inserted into Doctor 1 time, in Italy and the late Roman Empire. The adventure takes us to Constantinople, where something strange is happening with Emperor Justinian and Empress Theodora. It is nice to hear Vickie and Steven together again. Generally, it is a good but not overly ambitious ending to the trilogy.