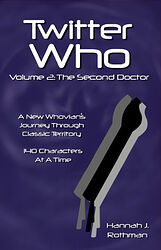 Cover blurb:
There are some corners of the universe which have bred the most wonderful things. They must be Tweeted!
The race to the end of the '60s is one filled with gaping holes, holes that are being reconstructed. Want to come along with Hannah on this next leg of her journey? She's set down 140 more planks for you, you'll be perfectly safe.
Hannah J. Rothman continues her epic quest to Tweet her way through Classic Doctor Who as she tackles the complete Patrick Troughton era, recons and all. Includes the commentary for The Macra Terror, originally printed in Outside In. Grab your favorite Highlander and get your sonics ready.
Hannah J. Rothman is an American Whovian and second-generation nerd. She was bouncing all over the house with joy the day that the rest of The Enemy of the World was found.