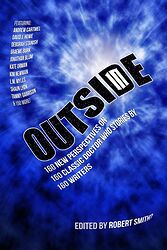 By:
Robert Smith? (ed.)
Rating:
Awaiting 3 votes Vote here
Review:
None yet Add a review
Released:
November 2012

Publisher:
ATB Publishing
ISBN:
978-0-9882210-0-0
Format:
paperback
Owned:
Buy:

| | | |
| --- | --- | --- |
| | | (Not currently available) |

| | | |
| --- | --- | --- |
| | | (Not currently available) |
Note: Followed by Outside In 2.
Cover blurb:
Put ten Doctor Who fans in a room and you'll wind up with eleven different opinions.
We gathered 160 writers from the Doctor Who community to say something new about the stories we know so well. It's an unprecedented archive of passionate and vocal opinions that capture the essence of Doctor Who and its many-splendoured fandom.
Just in time for the 50th anniversary of the greatest television program ever, you'll find in these pages mock-angry letters to the BBC, transcripts of council meetings, a menu, flow charts, maps, scripts, timelines... and much, much more.
Provocative, engrossing, hilarious and utterly gonzo. These aren't your father's reviews.
Featuring contributions from:
Neil Clarke • Taza McDoom • Taylor Deatherage • Matt Turner • Cassandra Frederickson • Eric Briggs • Cameron Dixon • George Ivanoff • Tara Eastwood et al • Nick Mellish • Thomas Marshall • Joe Ford • David Peters • Piers Beckley • Ari Lipsey • Rob Matthews • Grant Bull • Stuart Milne • Peter Niemeyer • David J. Howe • Anthony Wilson • Sean Gaffney • Andy Wixon • Neil and Sue Perryman • Matt Holsman • Fiona Moore • J.R. Southall • Ben Hakala • Shannon Patrick Sullivan • Nick Needham • Penny Goodman • Grant Whittingham • J.J. Gauthier • Hannah Rothman • John Bensalhia • Thomas Cookson • Carson Maynard • Andrew Feryok • Stuart Douglas • Brett Walther • John Seavey • Si Hunt • Brian May • Bill Evenson • Philip Sandifer • Stephen Maslin • Paul Simpson • Andrew McCaffrey • Jon Arnold • Graeme Burk • Tom May • Steven Warren Hill • P.J. Lasky • Matthew Harris • Michael Hickerson • Alastair Hughes • Deborah Stanish • John Keegan • William Whyte • Morgan Davie • Nicole Carlson • Greg McElhatton • Tom Croom • John Anderson • Jim Garrison! • Oliver Wake • Dorothy Ail • Richard Radcliffe • Gian-Luca Di Rocco • Jason A. Miller • Daniel Saunders • Alan Stevens • Richard Evans • Teresa Jusino • Robert Smith? • Tom Robins • Kate Orman • Matt Hills • Constatin H. Paidakos • Adam Gobeski • Will Berridge • Daniel Changer • Graham Howard • Peter McMullen • Mike Morris • Graham Kibble-White • Kim Newman • Hugh Sturgess • James Bow • Julie E.A. Hopkins • Andrew Cartmel • Jesse McLean • Joe Briggs-Ritchie • Steve Traylen • Wesley Osam • Dewi Evans • Matthew Kilburn • Terrence Keenan • L.M. Myles • Ummni Khan • Ian Farrington • Jameson Lee • Jan Fennick • Richard Farrell • Cheryl Twist • Sarah Baum • Shaun Lyon • Mark Corben • Paul Deuis • James Morrison • David MacGowan • Kenyon Wallace • Matthew Kresal • Rachel Morgain • Mark B. Oliver • Jennifer Adams Kelley • Arnold T. Blumberg • Simon Bedford • Melissa Beattie • Kathryn Young • Finn Clark • Paul Masters • Jonathan Blum • Steven Schapansky • Jack Graham • Jez Strickley • Kathryn Sullivan • A.D. Morrison • Matt Smith • Damian Taylor • Paul Castle • John Connors • Ewen Campion-Clarke • Wood Ingham • Nick May • Nikki Stafford • Colin Wilson • Trey Korte • Tom Beck • Daisy Kaufman • Peter McAlpine • Daniel Clarke • Tammy Garrison • Simon Kinnear • Andrew Flint • Robert Tymec • Barnaby Edwards • Dave Rolinson • Chris Arnsby • Michael Lee • Daniel Kukwa • Sarah Groenewegen • Scott Clarke • Stephanie Blumberg • Linnea Dodson • Sean Twist • Lindy A. Orthia • David Carroll • Quiana Howard • Aaron Prokop
5% of the full retail price of all sales of this book will be donated to Avert, a UK-based HIV/AIDS charity. www.avert.org