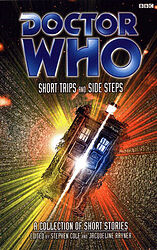 By:
Stephen Cole & Jacqueline Rayner (ed.)
Rating:
7.3 (28 votes) Vote here
Review:
My First Foray into a Whovian Anthology Read more (1 in total)
Released:
March 2000

Publisher:
BBC Books
ISBN:
0-563-55599-8
Format:
paperback
Owned:
Buy:

| | | |
| --- | --- | --- |
| | | (Not currently available) |
Note:
The cover blurb's promise that this would be the "last ever Doctor Who fiction of Lawrence Miles" proved premature — he subsequently wrote The Adventuress of Henrietta Street which was published a mere 18 months later.
Three of the stories are credited to pseudonyms: "Tara Samms" is a well-known pseudonym of Stephen Cole which he used for previous Short Trips anthologies (plus the novella Frayed), while the other two were nods to pseudonyms used by scriptwriters on the classic Doctor Who series — "Norman Ashby" was an alias used by Mervyn Haisman and Henry Lincoln on The Dominators while "David Agnew" was used twice: by Graham Williams and Anthony Read for The Invasion of Time and by Douglas Adams and David Fisher for City of Death. Presumably the users of these pseudonyms in this book were Stephen Cole and/or Jacqueline Rayner (the book's editors) though that's not confirmed.
Cover blurb:
How many lives has the Doctor had? Perhaps more than you think...
Follow the Doctor and his companions as they take short trips around the universe — perhaps to a Wild West overrun with dinosaurs, to a land where robot rabbits roam, or a planet where the Doctor must marry or die — and then step sideways into other universes — worlds full of song and dance; planets made entirely of sweets; lands of movie monsters; places where the Doctor as we know him may never have existed at all...
This collection includes stories by Peter Anghelides, Trevor Baxendale, Steve Burford, Graeme Burk, Miche Doherty, Harriet Green, Jason Loborik, Steve Lyons, Paul Magrs, Daniel O'Mahony, Lance Parkin & Mark Clapham, Justin Richards, Gareth Roberts & Clayton Hickman, Gary Russell, Tara Samms, Mike Tucker & Robert Perry, Christopher M Wadley, and the last ever Doctor Who fiction of Lawrence Miles.
Contents:
The Longest Story in the World by Paul Magrs
A Town Called Eternity (2 Parts) by Lance Parkin and Mark Clapham
Special Occasions 1: The Not So Sinister Sponge by Gareth Roberts and Clayton Hickman
Nothing at the End of the Lane (3 Parts) by Daniel O'Mahony
Countdown to TV Action by Gary Russell
The Queen of Eros by Trevor Baxendale
The Android Maker of Calderon IV by Miche Doherty
Revenants by Peter Anghelides
Please Shut the Gate by Stephen Lock
Turnabout is Fair Play by Graeme Burk
Special Occasions 2: Do You Love Anyone Enough? by Norman Ashby (pseudonym)
The House on Oldark Moor by Justin Richards
Gone Too Soon by Christopher M. Wadley
Reunion by Jason Loborik
Planet of the Bunnoids by Harriet Green
Monsters by Tara Samms (pseudonym for Stephen Cole)
Special Occasions 3: Better Take Care by Steve Burford
Face Value by Steve Lyons
Storm in a Tikka by Mike Tucker and Robert Perry
Special Occasions 4: Playing with Toys by David Agnew (pseudonym)
Vrs by Lawrence Miles