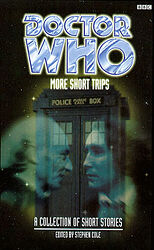 By:
Stephen Cole (ed.)
Rating:
7.1 (15 votes) Vote here
Review:
None yet Add a review
Released:
March 1999

Publisher:
BBC Books
ISBN:
0-563-55565-3
Format:
paperback
Owned:
Buy:
Note: Audio readings of 2 of these stories are available: Dead Time by Andrew Miller appeared on Earth and Beyond while Moon Graffiti by Dave Stone appeared on Out of the Darkness.
Cover blurb:
Here on Earth or out in the depths of the cosmos, the Doctor and his companions are never far from adventure. More Short Trips — the cleverly-titled follow-up to the popular Short Trips volume of short stories — takes the time travellers on another careering course of exciting escapades throughout time and space.
Showcasing the talents of both established authors and first-time writers, More Short Trips features every TV Doctor and a whole host of companions — plus a few surprises...
Discover things on Earth you were never meant to know. Get around the universe. Get short tripping.
Edited by Stephen Cole, this collection features stories by Peter Anghelides, Ian Atkins, Christopher Bulis, Paul Farnsworth, Simon Forward, Paul Leonard, Jason Loborik, Steve Lyons, Paul Magrs, David A. McIntee, Andrew Miller, Robert Perry & Mike Tucker, Gareth Roberts, Gary Russell, Tara Samms and Dave Stone.
Contents:
Totem by Tara Samms (pseudonym for Stephen Cole)
Scientific Adviser by Ian Atkins
Missing, Part One: Business as Usual by Gary Russell
Moon Graffiti by Dave Stone
One Bad Apple by Simon A. Forward
64 Carlysle Street by Gary Russell
The Eternity Contract by Steve Lyons
The Sow in Rut by Mike Tucker and Robert Perry
Special Weapons by Paul Leonard
Honest Living by Jason Loborik
Dead Time by Andrew Miller
Romans Cutaway by David A. McIntee
Return of the Spiders by Gareth Roberts
Hot Ice by Christopher Bulis
uPVC by Paul Farnsworth
Good Companions by Peter Anghelides
Missing, Part Two: Message in a Bottle by Mike Tucker and Robert Perry
Femme Fatale by Paul Magrs