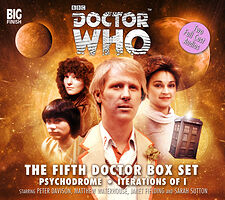 Cover blurb:
FOR THE FIRST TIME IN 30 YEARS, PETER DAVISON, JANET FIELDING, SARAH SUTTON AND MATTHEW WATERHOUSE ARE REUNITED FOR TWO BRAND NEW ADVENTURES.
PSYCHODROME
A four-part story by Jonathan Morris
Shortly after surviving the perils of Logopolis, Castrovalva and the machinations of the Master, the new Doctor and his new crew could be forgiven for wanting to take a breather from their tour of the galaxy. But when the TARDIS lands in a strange and unsettling environment, the urge to explore is irresistible... and trouble is only a few steps away.
ITERATIONS OF I
A four-part story by John Dorney
Trapped in an abandoned house on Fleming's Island one dark night, the Doctor, Tegan, Nyssa and Adric look into the building's mysteries, its stories of madness and death. Their only chance is to understand what terrible thing has been disturbed here... before it consumes them utterly.
Also contains a special bonus CD, featuring interviews with the cast and crew.