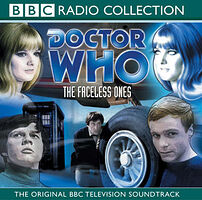 Note: Subsequently remastered and re-released as part of The Lost TV Episodes: Collection Four box set. Audio soundtrack of the 1967 Patrick Troughton TV story, with linking narration by Frazer Hines — not to be confused with the audiobook reading of the same story, released in 2019.
Cover blurb:
PATRICK TROUGHTON STARS AS THE DOCTOR IN THIS EXCLUSIVE RECORDING OF A 'LOST' TELEVISION ADVENTURE, WITH LINKING NARRATION BY FRAZER HINES
'Inspector Gascoigne was murdered with a ray gun. A weapon that has not yet been developed on this Earth!'
The TARDIS makes a hazardous return to 1960s Earth, materialising on a runway at Gatwick Airport! The Doctor and his friends realise that all is not well when Polly witnesses a murder, and then both she and Ben vanish. The authorities refuse to take the matter seriously — but when Polly reappears, why does she claim not to recognise her friends?
Aided by the plucky Samantha Briggs, and helped and hindered by Inspector Crossland of Scotland Yard and the airport Commandant, the Doctor and Jamie piece together a number of clues. A sequence of mysterious events seems to centre around Chameleon Tours, whose package holidays are designed to entice young people to foreign shores. Just how far-flung are the horizons they offer, and why are none of their passengers coming back? Who are the faceless ones, and what hideously deformed creatures are involved in the operations being conducted at the airport medical centre?
The Doctor believes there's a connection between Chameleon Tours and the odd behaviour of key airport personnel — but in seeking to prove his theory, and rescue Ben and Polly, he becomes embroiled in a plot to steal the identities of thousands of young people.