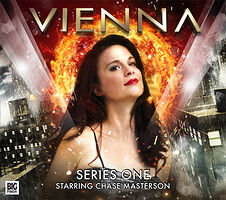 Cover blurb:
DARK. DEVIOUS. DEADLY. AND SHE'S THE HEROINE.
DEAD DROP BY MARK WRIGHT
Caught in the crossfire of a space battle, Vienna Salvatori is trapped aboard a crippled starship plunging into a sun. She has one hour to rescue the ship before it burns up — or die trying. Just a normal day for the galaxy's greatest assassin.
BAD FAITH BY NEV FOUNTAIN
Vienna sees the light when she becomes the latest convert to the Church of New Wonderment. When disciples start being murdered, for once, Vienna's finger isn't on the trigger...
DEATHWORLD BY JONATHAN MORRIS
The planet Mercator, home to the Tournament of Death, Twenty assassins go in. One comes out. Amongst the contestants is Vienna Salvatori, searching for the truth about her past. Can she survive long enough to be the last assassin standing?