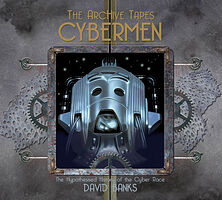 Description: Remastered CD box set re-release of the 4 ArcHive Tapes audio cassettes from 1989-1990, containing readings by David Banks from his book Cybermen, which chronicles the fictional history of the Cyberman race.
Cover blurb:
The Hypothesised History of the Cyber Race
Disc 1: Origins of the Cybermen
Cosmological Beginnings
Prehistoric Period
Departure of Mondas
The 14 Planet Period
Locating Planet 14
Journey to the Edge of Space
The Culture of Logic
Excising the Emotions
First Divergence of Species
The Transformation of Mondas
Developments on Planet 14
Meanwhile on Earth...
Disc 2: The Early Cybermen
Welcome to the Cyber Hive
First Invasion of Earth
Inhuman Killers from Another World
Cyber Mind Control
Destroy Life on Earth
The Quiet Invasion
The Descruction of Mondas
Cybermondasian
Misery or Mastery
Second Divergence of Species
Space Station W3
Late Cyberfaction
The Cybership
The Moonbase
Disc 3: The Cybernomads
The Vogan War
The Colonisation of Telos
Awakening of the Cybertelosians
The Pursuit of Voga
Late Cybernomad
The Vengeful Cybermen
Proliferating Cybermen
Disc 4: The Ultimate Cybermen
Cybermen on Gallifrey
In the Death Zone
The Deadly Chequerboard
Onslaught on Earth
Cybermen Take Control
Spiralling Backwards in Time
Departure from Telos
The TARDIS on Telos
A Wider Proliferation?
Living Metal
The Human State of Madness
The End of the Cybermen?
Disc 3 features exclusive bonus interview footage
The following blurb is contained on a fold-up insert inside the CD case:
They're back!
Actor David Banks created the character of the CyberLeader in BBC TV sci-fi series Doctor Who. In 1988 he wrote the book Cybermen, 'everything you wanted to know about the Cyber Race but were afraid to ask', illustrated by the acclaimed Doctor Who artist Andrew Skilleter. After the book came The ArcHive Tapes, an audiobook series released in 4 parts on separate cassettes in 1989.
This new 4 CD box set is a high definition remastering of that audiobook series, the hypothesised history of the Cyber Race, written, narrated and entirely reconstructed by the CyberLeader himself. A gripping retelling of their origins and history, fully dramatised with new effects, and original music heard here for the first time, it includes exclusive video interviews with Andrew Skilleter and David Banks.
Just when you thought the Cybermen would never return, here they are again — large as life and ten times as scary!
The ArcHive Tapes: Cybermen. One small purchase for a human, one huge cyber leap for humankind.